There are Places to Go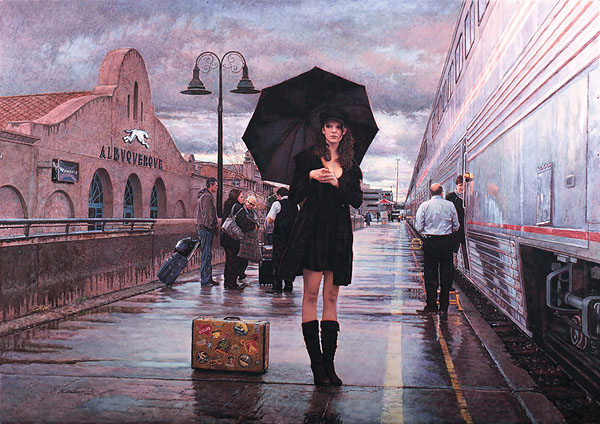 There are Places to Go
$ 440.00
Add To Cart
"There are Places to Go" by Steve Hanks
Signed Limited Edition Giclee on Paper, Unframed
Image Size: 22 X 15.75 in.
Edition Size: 150
Only One Available at this Price
There are Places to Go (Canvas)
$ 895.00
Add To Cart
Signed Limited Edition Giclee on Canvas, Unframed
Image Size: 30 X 21 in.
Edition Size: 75
"On the surface, the story behind this painting is straight forward," begins Steve Hanks. "This young woman has decided that it is time for her to leave home and make her own way in the world. The choice is hers and she is confident and self assured in her decision. But as it is with most of my paintings, there is a deeper, personal story to it.
"Years ago I painted a piece called Traveling with Dad. It showed me holding my daughter on an empty platform at a deserted railway stop. I painted that image at what was, without a doubt, the lowest point of my life. I was on my own raising two kids and the painting truly captured that feeling of the unknown future that we were heading toward. You'll notice that this young woman carries the same suitcase I had on the platform."
"Today, I am a long way down that track and it turns out our stop was in New Mexico. I have always painted the mountains, the sea and rivers and lakes so it seemed to me for the longest time that Albuquerque was a place that I was going to either pass through or leave from. Well, the years passed and time has revealed that this was our destination. Albuquerque is our home. That little girl I once could easily hold in my arms is now grown up. The future is hers. She is going to be making her own decisions, which will determine the places she is headed toward."
"There Are Places to Go" is as fine an example of contemporary realism as you are going to find today in the art world. Steve Hanks is recognized as one of the country's most important figurative artists. His technical skills combined with his captivating storytelling set his work apart from others.
Only One Available at this Price
---