In the Warm Savannah Sun (Artist Proof)
Low Inventory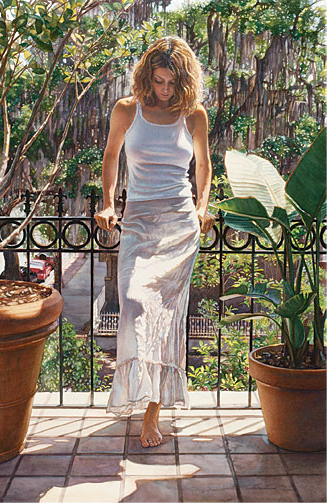 "In the Warm Savannah Sun" by Steve Hanks
Signed Limited Artist Proof Edition Giclee on Paper, Unframed
Image Size: 16.25 X 25 in.
Edition Size: 15
"I didn't grow up in the South," says artist Steve Hanks, "but I love the feel of it, especially Savannah, Charleston and New Orleans. The wrought iron balconies and live oak trees draped in Spanish moss have such a distinctive ambiance. These places fit the emotions I use in my art. The young woman in this painting is lost in a moment of reflection but her posture is of relaxed anticipation. She's ready for what's coming her way."
Bring a beautiful slice of Savannah into your home with this fine art giclée on watercolor paper that is nearly indistinguishable from Steve Hanks' original painting.
---